Professional Roof Repair Greensboro, NC & Durham Area
Your roof is your defense against the elements and an investment in your property. Keeping your roof in pristine condition is a must to ensure that your family and valuables are safe.
When your roof needs repairs, you need to find a local roofing company you can trust. Carolina Home Specialists is the number one roof repair company in Greensboro, NC.
We specialize in all roofing services for your commercial and residential properties, including roof repair, maintenance, inspection, installation, and replacement. No one knows your roofing like Carolina Home Specialists.
Signs It's Time For A Roof Repair:
Sometimes, roof damage results from normal wear and tear, while other times, you may face unexpected sudden damage to your roof when severe weather hits. Fortunately, a professional can quickly get your roof back in good condition. 
If you notice any of the following issues, you should start thinking about hiring someone to fix your roof.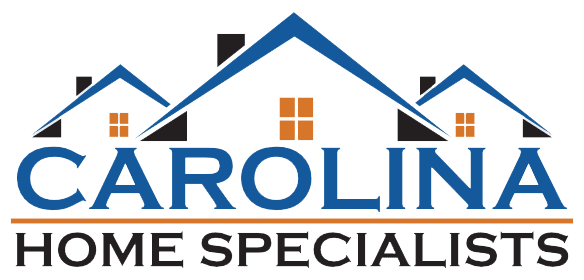 The state of North Carolina is known for its beauty — glistening beaches, breathtaking mountain ranges, and lush greenery. But North Carolina also receives its fair share of severe weather. 
Severe bouts of snow and storms take a toll on your roof and can severely damage it. Any roof damage is a threat to the structural integrity of your property, and fast roof repair in Greensboro, NC, is what you need.
After a storm, heavy rain, or snow, your roof may need a repair, and as roofs age, they start to deteriorate. Learning how to spot the signs that you have roof damage is the best way to avoid significant property damage. 
A damaged roof allows moisture into your property, causing mold and structural issues that are very costly. Common signs of damage that indicate you need fast roof repairs are:
Loose Or Missing Shingles
Heavy rain and wind storms can loosen or dislodge shingles, which can lead to more severe damage if unrepaired. Repairing missing or loose shingles right when they happen will save you money long-term. 
Missing shingles can also indicate that an aging roof needs to be replaced. Your local roofing company can provide you with a thorough inspection and roof repair.
Granules In Gutters Or On The Ground
Granule loss from asphalt or composite shingles is a normal part of roof wear and tear, but excessive granule loss, which shows up in the gutters or on the ground around the roof, is problematic. 
Granules look like coarse, black sand, and their function is to protect the shingles from the elements such as UV radiation and temperature extremes. Excessive granule loss compromises your roof and should be quickly repaired.
During a severe storm, tree limbs can break off and fall on your roof. It's obvious when a tree has come down on the roof, but there may be smaller branches you cannot see. 
It is advisable to organize a roof inspection after a storm to check for areas where your roof has been compromised. A branch or other fallen debris can cause shingles and tiles to crack or come loose, allowing moisture into your home.
Curled Or Cracked Shingles
As shingles age, they start to crack and curl. A few cracked shingles can be repaired, but a roof replacement is due if there are significant cracking and curling shingles.
There are a number of reasons that a roof will sag, but this always indicates that a roof repair is necessary. Don't delay scheduling a repair if there are any signs of roof sagging. 
Water damage or staining to your home's interior walls or ceiling is a sign that your roof is leaking. If left unrepaired, the moisture will cause mold and affect the structure of your home.
Light Shining Through The Roof
This one is a sure sign that you have roof damage. If you can see sunlight shining through the roof when you are in your attic, it means that water and pests can also get in. 
Scheduling prompt roof repairs for your home in Greensboro, NC, will save you from further property damage. The roofing professionals at Carolina Home Specialists are experienced in repairing all types of residential roofing.
If your roof is too extensively damaged or too old to repair, we will provide you with an estimate for a quality roof replacement.
Wet Spots And Algae Buildup
If you see streaks or dark areas on your roof, it could indicate that the roof is retaining moisture and leading to algae growth.
Greensboro, NC, experiences all four seasons, so roofs need to withstand both the heat and the cold. Carolina Home Specialists can repair a variety of roofs, including:
Asphalt shingles can be found on almost 80% of residential roofs across the country. They are the most popular type of roofing material in North Carolina as they are affordable, durable, can stand up to all types of weather, and come in a range of styles and colors.
Metal roofing is growing in popularity because it is moisture-resistant, long-lasting, and reflects light and heat. In addition, these roofs look amazing, are low maintenance, and are environmentally friendly, as they can be reused or recycled. 
Slate tiles are a beautiful and classical option, which is a bit more expensive, but they can last for up to 100 years if they are well maintained. They are fire-resistant, almost rot-proof, energy-efficient, and easy to maintain. 
Rubber roofing is traditionally used for commercial properties, but it's a great option for flat residential roofs. It's affordable, water-proof, and as it reflects the heat, it's also energy efficient.
Greensboro Commercial Roofing Company
The roofing experts at Carolina Home Specialists have extensive experience in commercial roofing, including repairs, maintenance, installation, replacement, and inspection. 
Commercial roofing is a highly specialized skill that requires in-depth training and experience. Not all commercial roofing contractors have the skills required to provide you with high-quality work that is guaranteed to last.
The commercial roofing contractors at Carolina Home Specialists provide superior roofing repairs for all rubber, slate, metal, and flat roofs. Our commercial roofing company experts are:
Qualified
Experienced
Fully licensed
Efficient and fast
Use high-quality materials and equipment
Follow safe roofing practices
Have earned excellent reputations for their workmanship
We are the commercial roofing company to trust with your commercial roofing repairs in Greensboro, NC.
Commercial roofs are tough and designed to last, but even the strongest commercial roof will require repairs as it ages or endures heavy winds and storms. 
A damaged roof leaves the structure of your building vulnerable to leaks and damage, and it puts the contents of your business at risk. Carolina Home Specialists repair all types of commercial roofs in Greensboro, NC, and we will provide you with high-quality work at affordable rates. 
If your commercial roof is showing any of these signs, you need to schedule a repair with a reputable commercial roofing company:
Over time, the combination of high moisture levels and heat can cause bubbling or blistering on the roof's surface. The blisters that form will allow moisture to get in and damage the structure of your roof. 
When roof flashing is damaged, it leaves gaps that moisture can get into. Moisture buildup can lead to the growth of hazardous mold, and it can also weaken the structure.
Water pooling that is unrepaired can lead to roof leaks. It also adds weight to the roof. Unrepaired pooling and seepage compromise the roof supports and can cause rust and rotting.
Call the commercial roofing company experts at Carolina Home Specialists at the first sign of damage to your roof. 
If your roof is older than fifteen years and has started to show signs of damage or wear, simply replacing shingles or repairing the damage might not be enough. You may need to hire a professional that can replace the roof.
Proper and prompt maintenance will help you to get the most out of your investment into a new roof. At Carolina Home Specialists, we can perform repairs or replace your roof to ensure that it protects your home fully.
Trust The Roof Repair Experts At Carolina Home Specialists!
Any of the above issues should warrant a call to a roofing specialist. However, sudden causes of damage might appear after severe storms or times of high heat.
If you've experienced a particularly harsh storm, wind and other elements could put a strain on the shingles. Hail can also cause sudden damage. Even exceptionally high temperatures can possibly lead to damage to your roof.
When bad weather hits, Carolina Home Specialists can check your roof for damage and perform repairs to keep your home in good condition.
Carolina Home Specialists are the experts in roof repairs for both commercial and residential properties in Greensboro, NC. 
Our roofing professionals have the experience and qualifications to provide superior roofing repairs at affordable prices. We are the local roofing company you can trust when you need roof repairs. Call us today for fast and professional service.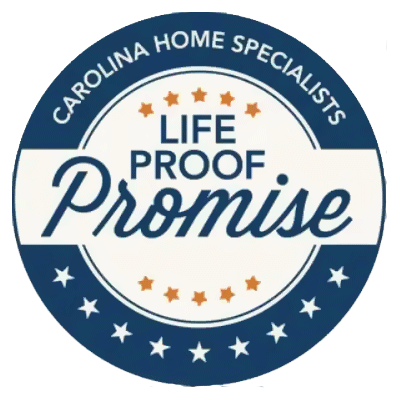 We show you how much we value your customer experience…
1819-E, Spring Garden St, Greensboro, NC 27403
411 Andrews Rd, Suite 220 Durham, NC 27705
We want to work with you!
From deck construction to roof repair, Carolina Home Specialists can do it all. Call us today to schedule a free consultation or contact us online.